WE ARE THRILLED TO WELCOME TWO STUDENTS TO OUR AUTOMATION AND SOLUTIONS TEAM FOR THE SUMMER!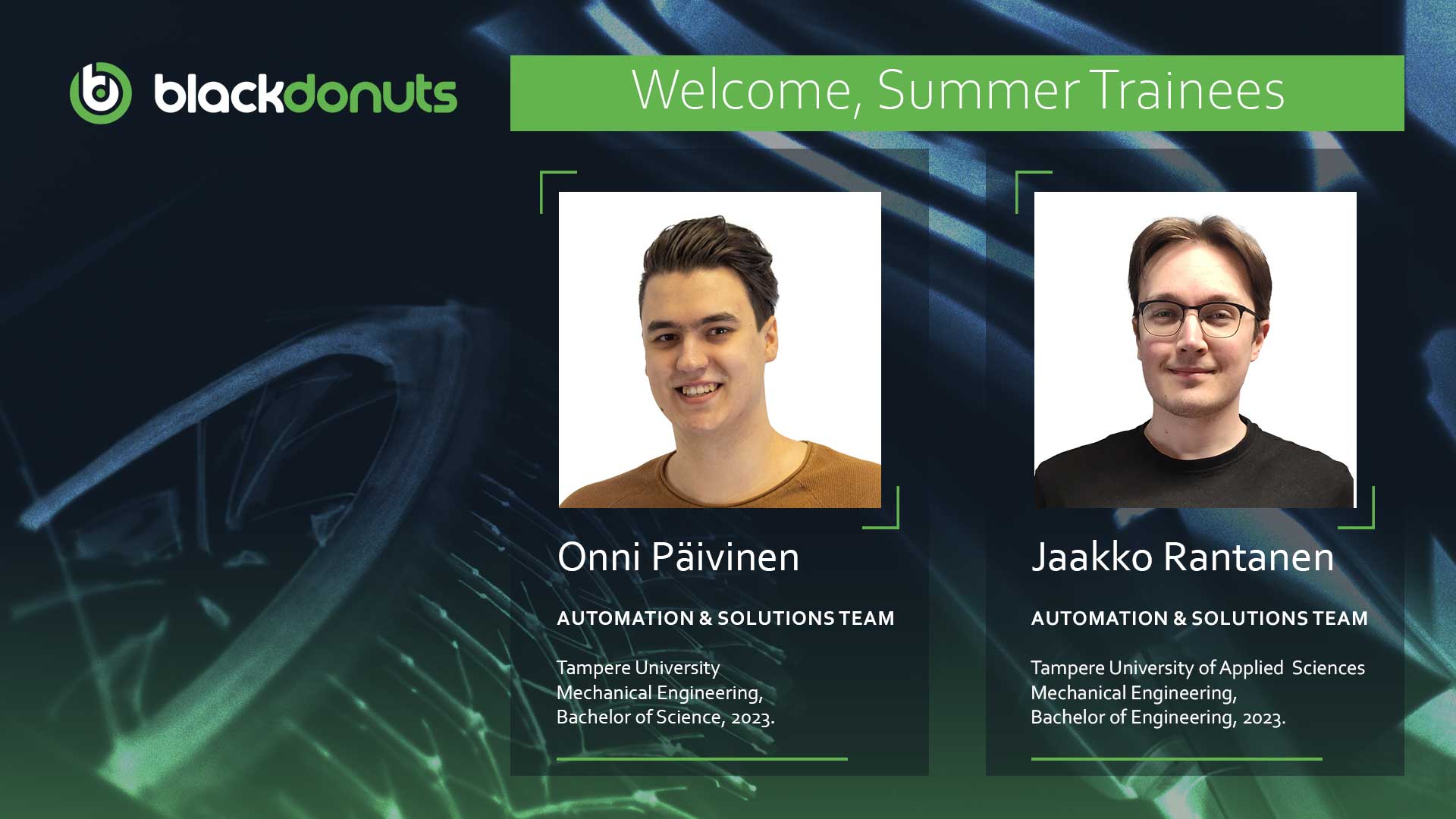 Education. It has come to our attention that there is a shortage of available and experienced technical/engineering resources, particularly in the niche tire industry. This scarcity is further amplified in Finland, where no specialized school or education program offers Bachelor's or Master's degrees in the rubber/tire industry.
Why tire industry and why Black Donuts? Tire plants encompass a distinct blend of technologies, holding significant potential for advancements in engineering, mechanics, electrical systems, automation, processes, energy, and materials. And Black Donuts is a unique and influential company at the core of the tire industry. It is driving transformative changes, revolutionizing the conventional tire industry to become more modern, cleaner, sustainable, and efficient.
Considering the possibilities the tire industry holds as a future career path, we have decided to hire summer trainees while they are still pursuing their studies. This allows them to explore if the tire industry aligns with their interests as they transition into adulthood. Additionally, by providing this opportunity, young individuals can witness the tire industry's offerings and potentially become renowned experts in the "Black Donuts."
For that purpose, we would like to welcome: Onni Päivinen and Jaakko Rantanen.
Hello, My name is Onni Päivinen, and I have joined Black Donuts Engineering in a summer trainee position in the automation and solutions team. I study mechanical engineering at Tampere University and graduated as a Bachelor of Science in the spring 2023. My interest in production automation offers great learning opportunities at BDE and I hope to gain valuable insight and skills during this summer!
Hi, I'm Jaakko Rantanen, and I started as a new summer trainee in the BDE automation & solutions team. I'm just about to graduate in my mechanical engineering studies (BEng) from TAMK and plan to continue my studies for a master's degree starting next fall. I specialized in machine automation during my studies, and I hope to gain lots of new knowledge and skills in the field during my internship at Black Donuts.
Once again, we extend our warmest welcome and wish our trainees a summer filled with growth, inspiration, and realizing your dreams!
With warm regards,
Black Donuts Engineering Oy Team.