True experts never stop learning
Continuous improvement is a key value at Black Donuts. Employees are encouraged to develop their competencies and sharpen their skills. Recently, Juha Mustajärvi, Pekka Vaittinen, and Olli Särkkinen completed a specialist vocational qualification in leadership and corporate management.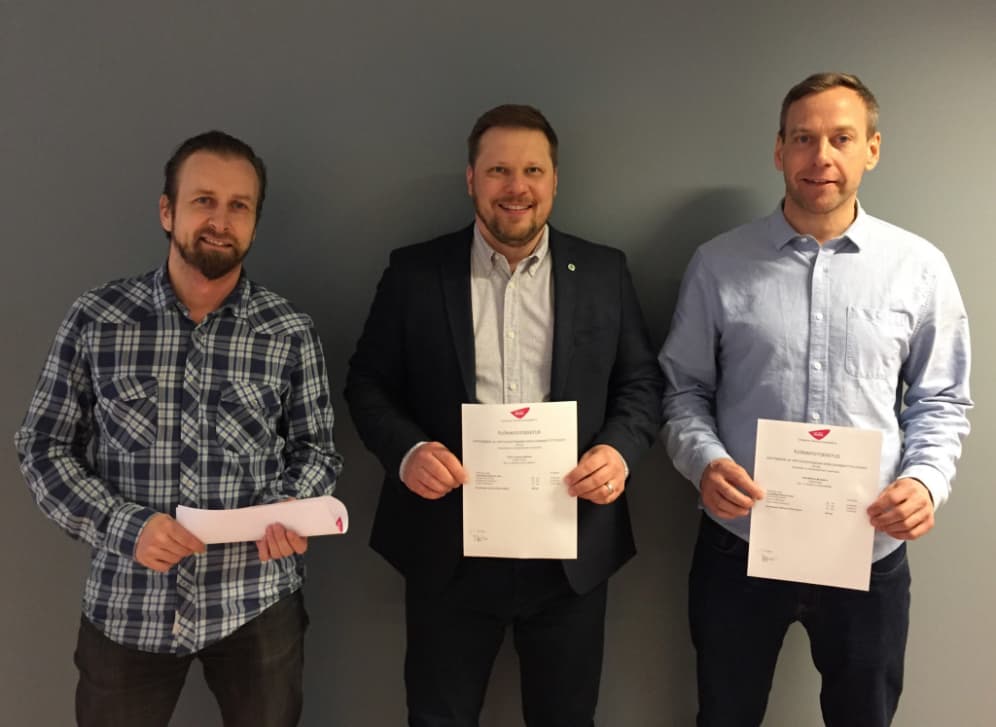 All three BD professionals chose project management as a focus area in their competence-based study program. While Pekka complemented his studies with strategy management, Juha dived deeper into customer relationship management and Olli into personnel and competence management. After the first contact teaching days at Tampere Vocational School, the pandemic restrictions moved all remaining lectures online.
Practical tools for self-development
In a competence-based qualification, the course program is highly practice-oriented. For obtaining the qualification, the students have to demonstrate their skills in working life and pass a competency-based test. Olli sees this as an advantage:
– Utilizing real-life work tasks in your studies makes studying more rewarding and less burdening.
One of the best practical tools was a 360-degree assessment that was used to gather personal feedback from colleagues, supervisors, and customers. It also included self-evaluation of leadership and cooperation skills.
– The assessment showed us our strengths and areas of development. It also pointed out aspects that we could put more emphasis on, Juha explains.
– It was eye-opening to take an outsider view and see how others perceive my contribution and leadership, Olli says.
Also, the lectures about emotional leadership offered a new important perspective for self-development.
– In business life, you tend to focus on excel sheets. It is really useful to evaluate how emotional leadership affects those figures and numbers, Pekka says.
Lessons learned – online
The course was comprehensive and covered a wide range of important topics.
– While working at the same time, I could never have encountered and learned from such a wide variety of professionals from different fields of expertise, Olli says.
Pekka made immediate use of the ideas for sharpening vision and mission.
– I now understand more deeply their broad role in corporate management. This insight was valuable when I recently built the strategy and vision for our digital products.
The studies also provided him with a useful update of learning methods:
– Although I did not learn much new about strategy management, I learned how to find and filter information more effectively.
Juha's key takeaways stem from the area of emotional leadership.
– I am now more active in listening to others and I pay more attention to why people may respond the way they do.
Despite the attractive study program, the students missed the face-to-face interaction with other participants. For Olli, networking and benchmarking were the brightest course highlights before the shift to distance learning.
– The course provided plenty of practical hints and tools, but as an online version only little peer support and best practices, Pekka says.
Juha agrees:
– It would have been a valuable add-on to learn from other participants. Now, we did most of the teamwork independently or within our three-member BD team.
Studying pays off
According to Liisa Lindström-Varis, Head of Group HR, employee training is not only about supporting individual competence development, but it has to link to the business excellence required to meet future objectives.
– Organizational support for employee learning is a great way to encourage people's full potential and to prepare for upcoming challenges in a changing work environment.
What about those who are currently thinking about completing their studies? Do Juha, Pekka, and Olli have any tips for them?
– Studying is always worth the effort. It is an opportunity to learn new perspectives, Juha says.
Olli completes this:
– Your brain loves to be used! It is good to challenge oneself and see familiar things in a new light. In turn, you get new skills and tools and a nice change in your everyday routines.
Pekka shares practical advice for every daydreaming student-to-be.
– The first step is the hardest. Stop thinking if you should or could, but make the pivotal move. Important is that you reserve time on your calendar for studying.