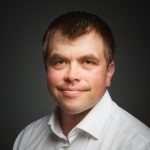 Ilkka Lehtoranta
Head of Tire and Material Development
Europe was the first region in the world to start using an ice grip label for tires. The purpose of the label renewal, effective since May, is to enhance the comparison of winter tires and improve overall driving safety.
In Nordic countries, good ice grip is crucial for safe winter driving, while in Central Europe, wet and snow grip properties are typically more important. The renewed EU tire label now has a pictogram for both. This will help consumers distinguish between winter tires designed for different conditions.
The new ice grip pictogram can be included on the EU label of a passenger car tire, which satisfies the minimum ice grip index values. These are set out in the ISO 19447 standard. The new icon, featuring a symbol of an ice stalagmite, indicates that the tire provides a shorter braking distance on ice-covered roads. This is tested by measuring the tire's braking distance on pure ice and comparing it with that of a standard reference test tire.
The ice grip performance test does a good job at distinguishing all-season tires from the tires designed for harsh Nordic winter conditions. The first tests show that even some Nordic winter tires have difficulties meeting the ice grip limit.
There is no doubt that the ice grip label will eventually gain a strong foothold, starting from Northern Europe. The winter tire specialists' active promotion will probably turn the consumers' focus onto the new icon and make it an actual choice criterion. This encourages all winter tire manufacturers to act fast to obtain the new, eye-catching pictogram.
And how can they do that? By improving the ice grip properties, naturally. However, there always lays a danger in making changes in the tread compound. While focusing on one attribute, it is important to maintain a good balance between all of them. As ice grip is, in practice, the opposite of wet grip, improving one weakens the other. Therefore, it is recommended to have an experienced winter tire development partner, such as Black Donuts, analyze the overall situation before taking any actions. With our impressive track record in winter tire development, we can help tire manufacturers improve the tires' ice grip performance without degrading other important attributes.
Black Donuts' group company BD Testing provides the accredited ice grip performance test based on the ISO 19447 standard. Together with BD Testing, Black Donuts offers tire manufacturers a full-service package, including the ice grip performance test, a thorough analysis, and an optional development plan.